This is another entry in Salem's Dance Journal which is part of his British Dance Theatre Association's Intermediate exam.
Russell Kerr
Choreographer for
The Royal New Zealand Ballet's
Swan Lake
Russell Kerr is one of New Zealand's most famous ballet choreographers who is respected for his ability to tell stories through musical movement. He has made more than 65 dance works for companies including the Royal New Zealand Ballet and the Limbs Dance Company.
He is a choreographer, a teacher and mentor to generations of dancers, and has directed and produced works for companies including the Auckland Ballet Theatre, the Royal New Zealand Ballet, and Southern Ballet Theatre.
He was born in Auckland in 1930 and studied ballet in his teens with Kathleen Whitford. In 1950 he went to Europe to train and he danced with the Jose Greco Spanish Company, the Sadlers Wells Royal Ballet, and the Ballet Rambert, then became a soloist with the London Festival Ballet.
He returned to New Zealand in 1957 and continued his dance career as a teacher, a choreographer and a producer. He was the director of the Nettleton-Edwards-Kerr School of Ballet from 1959 to 1961. In 1962, He took over from Poul Gnatt as the New Zealand Ballet's Artistic Director and led the company until 1968.
He staged full length ballets with live orchestras and international guest dancers, and he also created some modern ballets for the company's repertoire which included Concerto (1963), Mephisto (1964), and Peter and the Wolf (1962). Four of his ballets are in the current repertoire of the Royal New Zealand Ballet.
He was the director of the New Zealand Dance Centre from 1969 to 1977. Then he was director of the Southern Ballet Theatre from 1978 to 1990. He was teaching, coaching, choreographing and producing their youth performance works till his retirement in 1990. Not that he really "retired".
From 1992 to 2003 he was the Royal New Zealand Ballet's guest director for Petrouchka and did choreographies for Swan Lake, Peter Pan and A Christmas Carol. And again was the guest director for Pretrochka in 2011.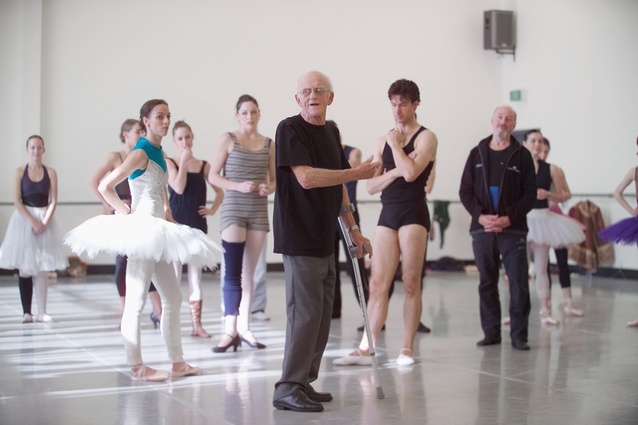 With dancers of the Royal New Zealand Ballet
In 2005 he Created a new full-length ballet based upon the secret life of Hans Christian Anderson. He is still very busy even now. I was lucky enough a few years ago to meet him, chat with him and listen to him talk about how he choreographed Peter Pan for the RNZB.
He is an Icon Artist of the Arts Foundation of New Zealand, was awarded the Queen's Service Medal (QSM) for Services to Ballet in 1986 and was made an Officer of the New Zealand Order of Merit (ONZM) in 2000.
His work includes:
Hans Christian Andersen (2005)
Opus 17 for 71 (2004)
A Christmas Carol (2001)
Peter Pan (1999, 2010)
Swan Lake (1996)
Journey (1989)
Te Maia and the Sea-Devil 1987)
Terrible Tom (1985)
Salute (1983)
Scripting the Dreams (1982)
Prismatic Variations with Poul Gnatt (1959)
- Researched and written by Salem Foxx